Gain Control Over Your Barrel Temperature with Shibaura Machine's V70 Controller
ELK GROVE VILLAGE, IL, June 25, 2021 - Errors in temperature control result in a large part of rejects in the injection molding world. If a molder wants to ensure a stable molding cycle and high quality product, having a temperature control process is essential. But how exactly do you get smart temperature control?
Shibaura Machine includes a variety of temperature functions within the V70 controller to help injection molders. With the easy to use interface, customers are able to not only reduce rejects, but lower maintenance costs, increase service life, and increase energy savings. The temperature functions on the V70 controller improve overall process stability. 
Improve Your Temperature Control
Each zone needs to be controlled accurately in order for the injection molding process to work consistently. Without that control the result will continually be an erratic melt stream and rejects. The barrel temperature feature on the Shibaura Machine V70 controller includes a variety of functions to allow for continuous and consistent temperature control.
Barrel shift mode: this prevents material degradation by allowing the user to drop the temperature of the barrel to a lower setting for a set period of time if the machine will not be running. For example, if the machine is down for two hours, the machine will lower the barrel temperature and will have the barrel back up to operating temperature in two hours.
Auto heat-up circuit: this saves time allowing the user to set a calendar schedule to automatically heat up the barrel for up to one week in advance. 
Barrel temperature feed forward control: Keep the temperature consistent and improve energy consumption from beginning to end of the molding job. The machine calculates the heater-on ratio when idle to compensate for temperatures falling at re-start or rising at machine stop. 
Simultaneous nozzle & barrel heat-up: prevent resin burning inside the nozzle by controlling nozzle and barrel warm-up in zones where the warm-up time is delayed, enabling the warm-up complete timing to be matched across all zones.  
Heater break display: reduce molding defects caused by faulty barrel temperature by being able to immediately sense when the barrel heater is disconnected, and locate the disconnected heater.
Resin degrade prevention circuit: a molding defect may occur if auto operation is executed while resin is degraded due to resin stagnation. If a set amount of downtime is reached the machine will require purging to prevent resin degradation prior to resuming production.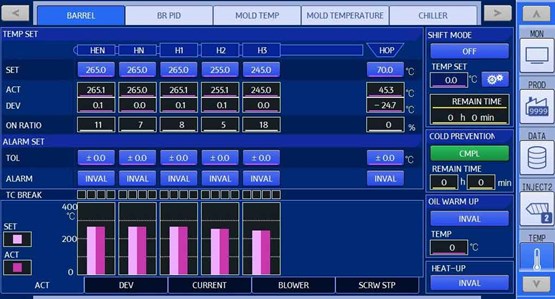 Shibaura Machine is changing the standard in barrel temperature control. With the V70 controller customers can leverage the barrel temperature functions to create smarter temperature control, improving the overall injection molding workflow. Contact our injection molding team to learn more.
Contact us today to learn how our barrel temperature features can help your molding shop become more efficient!
Want to know more about our machines?