Shibaura Machine Makes Die Casting Record Keeping Easy
ELK GROVE VILLAGE, IL, May 6, 2021
Back when die casting first began the machines were operated by hand turned valves and timers, left in the hands (and head!) of the operator. Each operator had their own preferred list of turns on the valves and times to make parts. Unfortunately, the problem with this method resulted in inconsistent parts and loss of productivity, especially between shifts. 
As technology evolved the controls advanced. Turns and times became part of the setup in the control panel, but still a large problem was left to be solved. Operators could still change machine functions from shift to shift, whether they were given permission to or not and with no record of who did what because the machine wasn't able to track them or record the information. The result continued to be inconsistent parts and loss of productivity.
Problem Solved
Flash forward to present day and Shibaura Machine now offers our die casting customers a state of the art solution to stabilize the die casting process and avoid operator inconsistencies. Our TOSCAST 888 system includes two simple pages to solve this problem.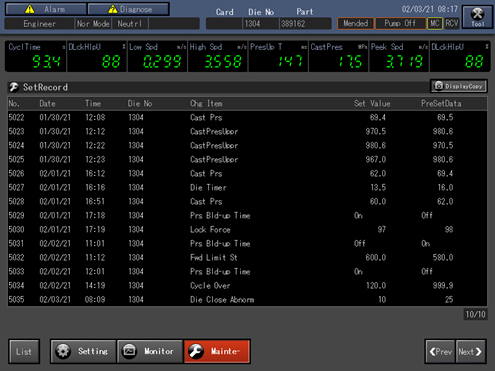 Set Records Page
Wondering why the job ran all scrap last night? Hopefully not, but now that question, and any others related to function changes, can be answered with the records page of the TOSCAST 888 system. This page records the machine functions that are changed, when they were changed, and perhaps most importantly who made changes with the use of the password page.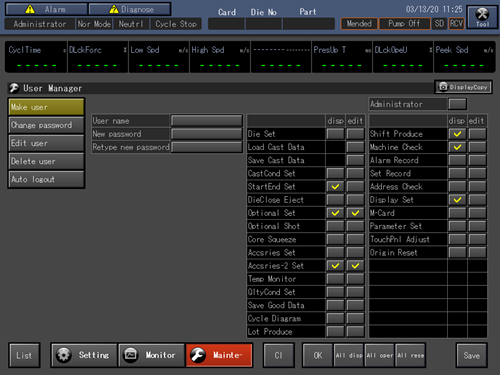 Passwords Page
On the records page understanding who made changes can be important so you can communicate with that person if errors occurred or to appreciate a job well done. The password page offers the ability to give permissions to an individual or group in order to limit the pages they can view and/or edit. It also allows anyone to see how many changes and who made those changes on the records page. 
The TOSCAST 888 system allows your die casting machine to be tailored for your foundry to increase productivity and efficiency. Utilizing the record and password pages allows for a continuous overview of what is happening whether you are there at the moment or later in the day. Ultimately, these pages will help you to stabilize the die-casting process and keep an eye on production.
Contact our die casting team to learn more about the TOSCAST 888 system. 
Want to know more about our machines?