Resin Viscosity Changes Affecting Your Injection Molding Process? DST-Fill Can Help!
ELK GROVE VILLAGE, IL, October 20, 2021 - Many variables can affect the injection molding process. Of these variables, resin viscosity is perhaps the most critical. Oftentimes the viscosity of materials is neither consistent nor predictable resulting in an inconsistent process.
Shibaura Machine's all-electric SXIII series of injection molding machines features a Dynamic Self Tuning-Fill (DST-Fill) function which uses injection pressure feedback. With the DST-fill feature, the machine can automatically detect changes in material viscosity and make process changes in order to prevent part defects before they happen or stop them quickly with minimal scrap. 
Easy Monitoring to Viscosity Changes
While some injection molding machines  can detect changes in resin viscosity, Shibaura Machine's DST-Fill function takes it a step further by aiming to stabilize molded article quality by automatically adjusting set up data.
By monitoring the injection pressure, DST-fill detects the monitoring data movement average during continuous molding to maintain molding stability. If the injection pressure increases over a set tolerance then the machine will increase the front zone and nozzle temp or just the front zone temp to lower or raise the viscosity of the material. The front zone by itself has the greatest affect on viscosity. This feature is able to automatically fine tune setup data when the movement average varies relative to the good article reference profile.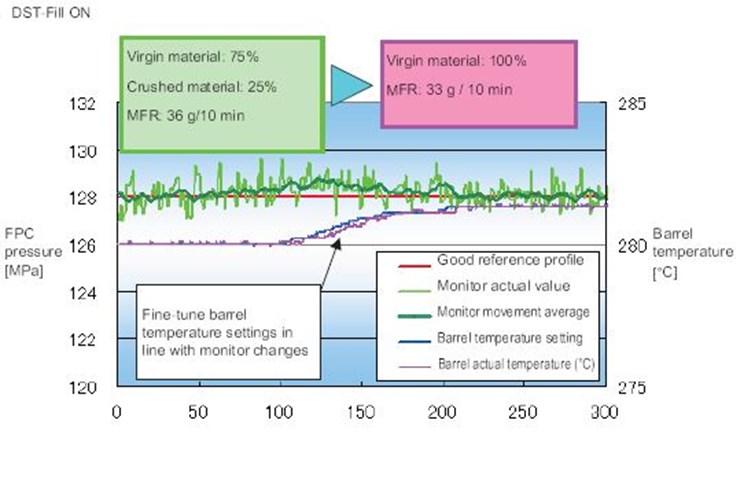 When To Use DST-Fill
DST-Fill can be useful for a variety of applications. We find it most appropriate to use when running high tolerance applications and when introducing regrind material mixed with virgin material. It can also be useful when the material lot changes in the middle of a production run..
Stop The Guessing
Automatically compensating for resin viscosity changes can be a vital step in solving molding issues. The DST-Fill function on the V70 controller can help stabilize your process - automatically!
Contact our team today to learn more about this feature -im-success@shibaura-machine.com
Contact us today to see if Dynamic Self Tuning (DST) - Fill can help your molding shop achieve its goals!
Want to know more about our machines?