The Benefits of Shibaura Machine's Proprietary Injection Molding Servo Motor and Ball Screw Design
ELK GROVE VILLAGE, IL, September 17, 2021 - As the technology for injection molding machines continues to evolve, all-electric has become an increasingly popular option. When it comes to comparing and choosing the right all-electric machine for your factory, looking into the design of the servo motors, amplifiers, and ball screws is critical. When well-engineered, these components can greatly increase the benefits of lower energy costs, improved consistency, and reduced cycle times. 
Shibaura Machine's long history in the machine tool industry has given us the opportunity to develop key proprietary technology in servo motor and ball screw design. These crucial components have been designed by our team specifically for all-electric injection molding machines, nothing coming "off the shelf".  Here is what molders should know about the unique design of Shibaura Machine's servo motors, amplifiers, and ball screws.
Unique Servo Motor Technology
As a leader in developing energy-efficient machines, Shibaura Machine's SXIII series synchronous servo design allows for a more eco-friendly, quieter, and faster operation with improved repeatability. Several highlights include:
Maintenance free
No power used when idle
High torque at low and high speed
No cooling fans required as standard
Dynamic braking
Rare Earth magnets hold position when there is no power
Ball Screws Designed for Injection Molding
The design of the ball screws is essential to ensure precision and longevity of this key component. Shibaura Machine designed the ball retainers to reduce wear and increased runs of the balls transfer load over a greater area.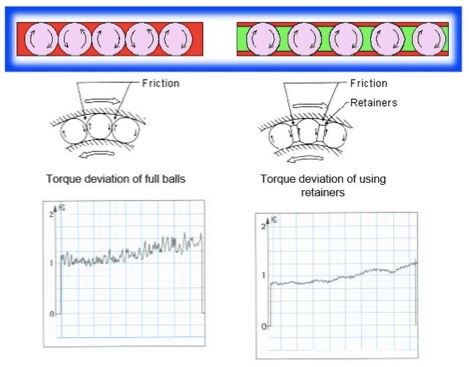 This allows for retainers to assist in holding lubrication, improved durability and efficiency because of less friction between balls, and reduced noise levels due to the retainers stopping rolling ball impact.
Learn More
Contact the injection molding team at Shibaura Machine to learn more about these unique features of the SXIII series today.
Contact us today to see if our SXIII series can help your molding shop achieve its goals!
Want to know more about our machines?