From One Product to the Next- Improving Set-up Efficiency in Injection Molding with SMED and the SXIII
ELK GROVE VILLAGE, IL, July 7, 2021 - Reducing the changeover time for your operations is critical to maintain a competitive advantage and improve profitability in the manufacturing industry today.
That's where the concept of single-minute exchange of die, often referred to as SMED, comes into play. Many are familiar with SMED, a key concept in lean operations that works to get down to the single digits (9 minutes or less) in changeover time. In applying this concept, the shop will realize several benefits including lower manufacturing cost, reduced waste and inventory, and faster response to customer requirements. 
In the past, implementing SMED could be a challenging chore for operators. However, perfecting the mold changeover process with SMED has become a lot easier with the Shibaura Machine's SXIII injection molding machines capabilities.
3 Functions to Focus On with SMED
There are a number of ways to reduce changeover time from one job to the next. Shibaura Machine is sharing several effective options for shops to consider using with the SXIII injection molding machine in order to achieve SMED. 
Quick Clamping Systems
Easy to use mold change systems are a great starting point to reduce changeover times. 
Numerous quick clamping systems are on the market to choose from. Magnetic platens perform a mold change loading the mold traditionally using a crane. You may also choose to use a horizontal mold change system with magnetic platens and rollers that require some manual action or fully automate the operation. 
These quick clamping systems are not only faster, but safer because workers no longer need to climb into the machine or under the mold to attach clamps.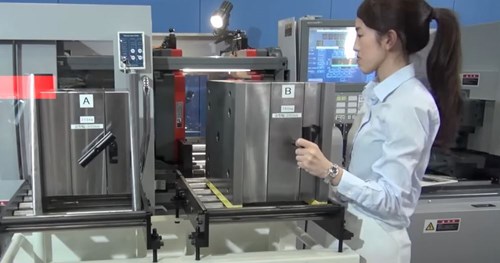 Memory Link
Once a press completes its last cycle the typical process is to shut down and have the machine sit idle. Then changeover takes place, including staging any required auxiliary equipment and then finally conducting set up for the machine again. However, using the SXIII's memory link function the mold set up for machine and auxiliary equipment is loaded simultaneously for a much quicker start-up process.
Auto Set-up and Auto Start-up Functions
With these functions your operator can easily set up a sequence of jobs and the machine will automatically shut down, purge, and load the next job. If an auto mold change system is being used, the mold will also automatically be changed and the next production run started.
Getting changeover time reduced is a great way to help your shop become more lean, eliminating waste and improving profit margins. If you would like more information on how the Shibaura Machine SXIII injection molding machine can help your shop work towards SMED contact our team today.
Contact us today to learn how our ECSXIII series of all-electric machines can help your shop work toward SMED!
Want to know more about our machines?