Looking to improve chip filtration on your machine tool? Consider this.
ELK GROVE VILLAGE, IL, December 8, 2021 - 
Maximizing machine tool output is the goal for today's industrial manufacturing applications. Being able to machine as many quality parts in the shortest amount of time allows for higher profitability and return on investment. However, machining of these parts generates a high volume of chips which can become time-consuming to constantly manage.
Shibaura Machine Company, America offers our machine tool customers an easy solution to automate the chip management process. By using a Jorgensen EcoFilter® you can efficiently and expediently remove these chips, separating them from the coolant, where they can easily be disposed of and recycled.
Flexible & Cost-Effective
The Jorgensen EcoFilter® offers numerous advantages for those using turning, milling, and boring machines to increase productivity and profitability. With the EcoFilter® you are able to spend less time performing tank cleanout by reducing the number of chips entering the coolant tank which improves machine uptime. The consistently cleaner coolant positively affects the tool life of both the cutting tools and coolant pump.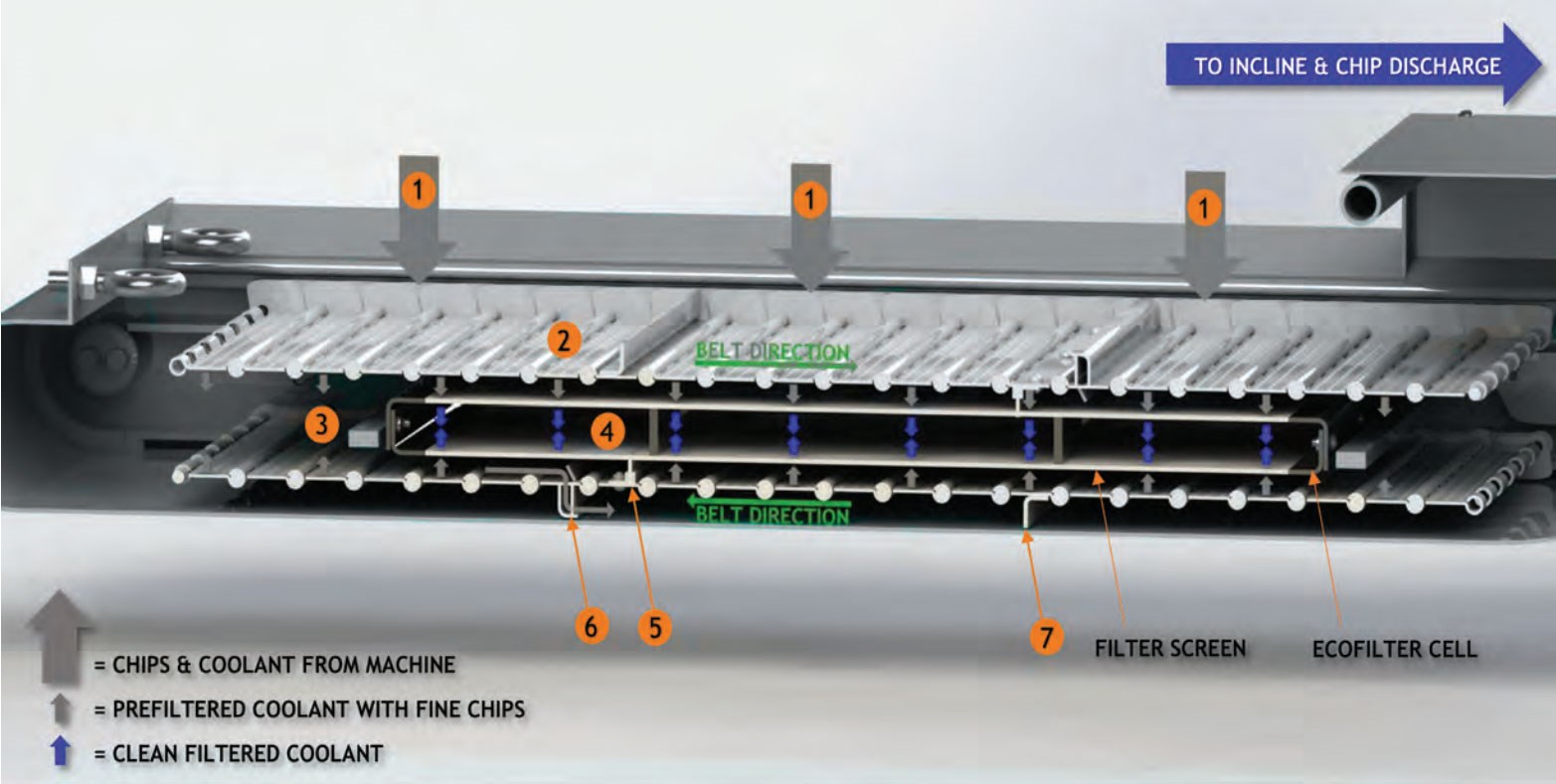 The process is simple and straightforward:
Chips and coolant enter the conveyor's load section
Large chips and/or stringers are carried out by the hinged or scraper belt depending on your application.
Coolant and fine chips flow to the section in between the runs of the belt, where the EcoFilter® cell is located.
Fine chips are separated as the coolant passes through the filter cell. Clean filtered coolant flows from the inside of the filter cell, out of the side of the conveyor, and into the coolant tank.
Brushes continuously wipe fine chips from the surface of the filtration cell, keeping the cell clean for coolant to pass through.
Filtered chips can exit in between the runs of the belt through the bottom run via the patent pending CleanCleat® system, finding their way to the bottom of the conveyor casing.
Fines that migrate to the bottom of the casing are scraped up and around to the top run of the belt, where they are finally discharged.
Customers may also convert the "EcoFilter® ready" conveyor to an EcoFilter® with a simple field retrofit kit and with the eco-friendly design you will never require filter consumables.
Learn More
Your coolant quality plays a key role in maximizing your machine tool output. In order to achieve clean coolant, removing the fines and chips is necessary. The Jorgensen EcoFilter® allows for easy automation of this process and is an important option to consider including with your next machine tool purchase.
Want to know more about our machines?