Shibaura Machine Showcases the TUE-200(S) Extended Column and Ram Travel at IMTS 2022
ELK GROVE VILLAGE, IL, August 18, 2022 - 
The upcoming International Manufacturing and Technology Show will showcase the latest machining technologies and processes. Shops looking to streamline their CNC machining processes are invited to visit us at Booth 339430 where we will be highlighting our TUE-200(S) vertical turning machine with extended column and Z-axes ram travel, utilizing the FANUC control. Offering both turning table and milling/boring spindle capabilities in a single machine, the TUE-200(S) is making an impact on manufacturing.
Multi-Tasking Innovation
Many shops are looking to multi-tasking in order to achieve growth and remain competitive. With the voice of the customer in mind, the TUE-200(S) provides an answer for machinists, and not only reduces cycle time but reduces workpiece handling while producing higher quality parts. The machine is able to turn and mill large-diameter workpieces accurately in a single set-up, utilizing a live spindle for quick tool changes and the FANUC control for easy operation.
As an industry leader in the manufacturing of conventional vertical turning and horizontal boring machines, Shibaura Machine brought that expertise when designing the TUE-200(S). Even with the combination of machining processes into a single machine, rigidity and accuracy remain a key focus. Engineered with robust, high-quality cast iron components in one-body construction, the cutting force is absorbed and transferred efficiently through the single crossrail and its unique wall-type column design.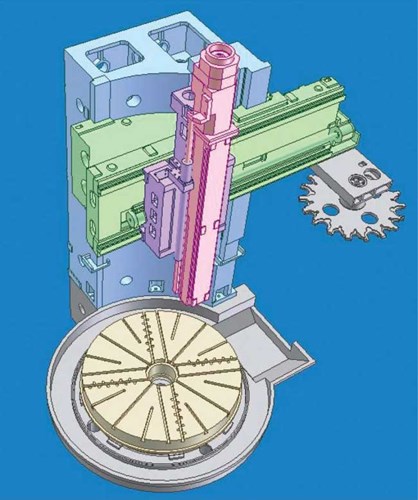 At IMTS, attendees will be able to visit us at Booth #339430 to see how milling and turning applications are made easier. From being able to produce highly accurate workpieces to those with high surface finish requirements, this multi-tasking machine can be used in a number of manufacturing scenarios. The TUE-200(S) on the show floor will also be equipped with an 18-position automatic tool changer for storage of both turning and milling/drilling tooling. 
Visit Us At IMTS 2022
With an impressive variety of features to help manufacturers increase their workload while making it easier to hold tight tolerances and increase metal removal rate, the TUE-200(S) is not to be missed. Contact the Machine Tool team to learn more and visit us at the International Manufacturing Technology Show (IMTS 2022), Booth 339430, from September 12-17 in Chicago where the TUE-200(S) and BTH-130.R24 horizontal boring mill will both be on display with the FANUC controls and our IIoT solution machiNetCloud will be featured.
IMPORTANT DETAILS
September 12–17, 2022
McCormick Place Convention Center,
2301 S King Dr, Chicago, IL 60616
South Building, Level 3
Booth #339430
https://directory.imts.com/8_0/floorplan/index.cfm
SHOW REGISTRATION
We can't wait to see you in Chicago! 
Registration for the event is open to the public.
https://www.imts.com/show/reg.cfm
Contact the Machine Tool Sales Team to learn more.
Want to know more about our machines?