Maximizing Efficiency in Machining with the Right Angle Head Attachment on your Horizontal Boring Machine
ELK GROVE VILLAGE, IL, March 14, 2023 - 
As a machine tool operator, you know that there are many challenges involved in performing precision cutting, drilling, and other operations. Machining complex workpieces with multiple surfaces often require numerous setups and difficult-to-maneuver manual adjustments. Fortunately, there is a tool that can help you overcome the challenges: the right angle head combined with the automatic tool changer.
A right-angle head is an attachment that is designed to be used with machine tools. It allows the tool to be oriented at a right angle to the workpiece, making it possible to create complex shapes and contours that would be difficult or impossible to achieve with a conventional tool. With a right-angle head, you can perform the necessary set-up in one continuous application, saving time and improving efficiency. 
When pairing the right angle head with the automatic tool changer (ATC), operators can achieve a more streamlined process and increased flexibility.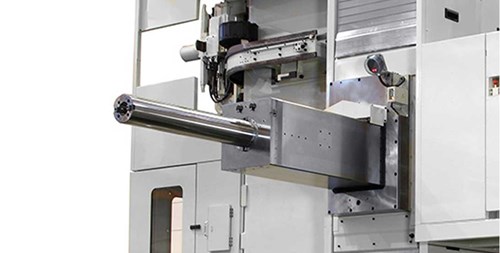 Save Time Accessing Tight Spaces and Awkward Angles
With a right-angle head and ATC, machine tool operators can perform multiple operations in a single set-up, without the need to stop and change set-ups manually. This can greatly reduce downtime and increase productivity, as the machine can run continuously without interruption. This feature is especially useful for high-volume production runs, where every second counts.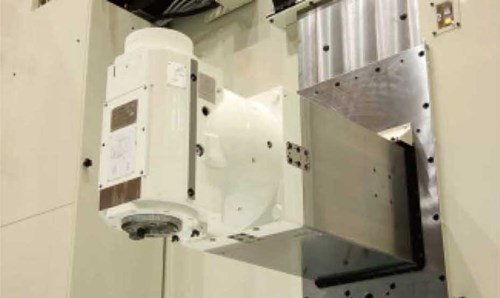 In addition to time savings, this combination can improve the accuracy and precision of the finished product. A right-angle head makes it easier to access these hard-to-reach areas, allowing you to perform precise machining without having to worry about awkward angles or clearance issues. Because you're able to work at more precise angles and with greater accuracy, you can achieve tighter tolerances and smoother finishes. By eliminating the need for manual tool changes with the ATC, the risk of errors or mistakes is also reduced. All of this can lead to more consistent and accurate machining, resulting in a higher-quality end product.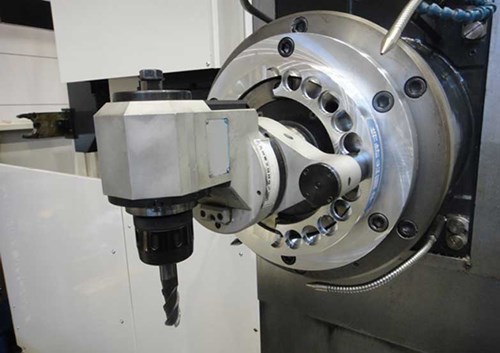 Operators are also more easily able to switch between machining operations without having to stop because the ATC can switch between different tools automatically. This flexibility can be especially useful when working with complex parts that require multiple set-ups to complete.
A Smart Investment in Modern Machining
In modern machining, reducing set-ups and the processing time is crucial to improving productivity and profitability. A right-angle head with an automatic tool changer is a powerful tool that can help customers save time, improve accuracy and precision, and increase flexibility in their operations. 
Contact the Machine Tool team to learn more and start incorporating the right-angle head with ATC into your machining operations to streamline processes, reduce set-up times, and increase productivity, ultimately improving your bottom line.
Want to know more about our machines?