Improve Quality Control and Productivity with the iPAQET Remote Data Management System
ELK GROVE VILLAGE, IL, January 27, 2021 – Not all monitoring and data management systems are created equal. Many systems are prone to errors, have less than easy to use interfaces, or require someone to be in front of the machine- oftentimes collecting data manually. What if you could be off site and still monitor critical components during operation, collecting and analyzing the data you require?
The iPAQET Remote Monitoring & Data Management System by Shibaura Machine provides the information required to effectively manage equipment, production, and product quality from inside the plant or remotely. Compatible with Shibaura Machines equipped with the V30, V50, or V70 controllers it offers unparalleled visibility of your operations from anywhere. With the iPAQET system your molding shop will be equipped to improve productivity and better monitor quality- helping you meet your production goals.  
iPAQET Intuitively Makes Management Simple
The iPAQET real time data collection system allows you to quickly view machine and production status with our easy to use interface and graphics. By using a LAN line you will have a central viewing of production information and the ability to message up to 100 machines. The system offers an accurate and easy way to manage machines, products, quality, and run quality analysis. 
Tools available include:
Process management
Production management
Machine history log
Quality management
Real time machine status
Resin lot management/traceability
iPAQET is Innovation
iPAQET frees up plant personnel for more valuable tasks by automating often tedious and error-prone work. iPAQET was designed with several features that allow injection molders to achieve greater productivity:
Improved Visibility: real-time machine/assembly station status and production quantities
Easy Accountability: know which operator produces what and how fast
Real Time Continuous Improvements: problem notifications and problem/solution history
Reduced Machine Downtime: get notifications when machine status changes
Profit Awareness: the system provides information to help you calculate your true costs 
We are committed to offering our customers the most innovative ways to cut costs permanently. The iPAQET remote data management system allows for optimal monitoring and analysis of the injection molding process. This powerful system gives you the highest level of production data available in the industry today.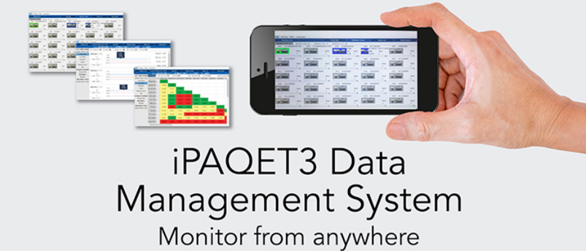 Want to learn more about how iPAQET Data Management can add value to your operation? Request more information below!
Want to know more about our machines?