Improve Injection Molding Part Quality with the DST-Press Function on Shibaura Machine's ECSXIII Series
ELK GROVE VILLAGE, IL, October 27, 2021 - While injection molding is a versatile way to produce parts and products, it can be complex and challenges often arise. One of the most common concerns manufacturers have is creating a consistent and repeatable process that produces high-quality parts. 
What if you could create a more consistent process from shot-to-shot throughout the processing cycle especially while the heat is saturating the mold, platen, and even toggle linkage?
Shibaura Machine's all-electric injection molding machines feature a tie-bar strain sensor which can automatically adjust clamping force based on direct feedback of changing mold conditions. The Dynamic Self-Tuning Clamp Force (DST-Press) function means better part quality from start to finish.
Why Use DST-Press?
With most injection molding machines, the mold thickness is adjusted so clamping is repeatedly performed by the set clamp force. The problem with this process is that due to mold temperature changes and aged deterioration such as tie rod stretching, the actual clamp force can conceivably exceed or drop below the clamp force setting. This can affect the molded article quality. 
The DST-Press function allows the machine to automatically compensate for these variables, so the clamp force remains constant even when continuously performing molding work over a long period. This results in a more consistent process from shot-to-shot, especially while the heat is saturating the mold, platen and even toggle linkage. It also means elimination of negative effects from thermal expansion and more consistent part quality due to uniform venting. 
Additional benefits include:
More clamp related info - direct feedback via strain gauge
Eliminates the need to re-perform mold thickness settings during the run
Clamp tonnage adjustments can be made on the fly
Greater range for tonnage setting (50-100%)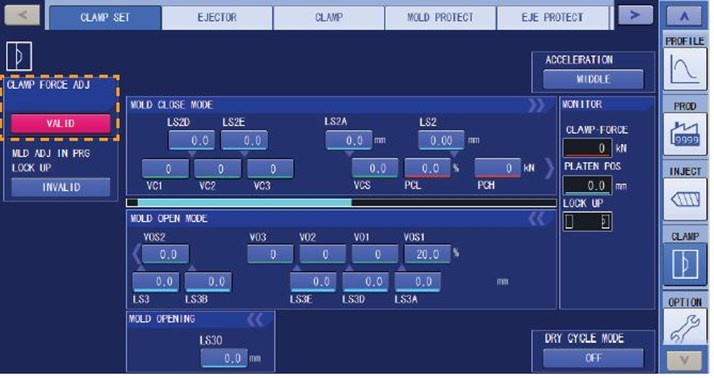 How to Use DST-Press
The setting procedure is straightforward and simple with the easy to use V70 controller on the Shibaura Machine ECSXIII series. By pressing the CLAMP menu, you can go into the settings to start operations. The screen also offers actual clamp force data per shot via the TABLE screen. This screen improves monitoring capabilities with simple tracking of your machine's clamp adjustments.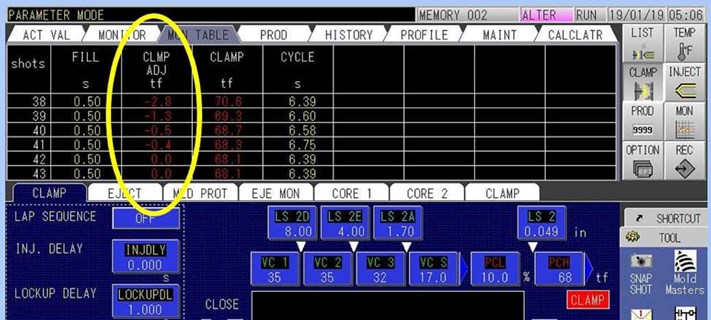 If you are looking to improve your injection molding process, contact our team to learn more about how the DST-Press function on our all-electric injection molding machines will help - im-success@shibaura-machine.com.
Contact us today to see if Dynamic Self Tuning (DST) - Press can help your molding shop achieve its goals!
Want to know more about our machines?