All-Electric Injection Molding Machines Offer More Than Energy Savings
ELK GROVE VILLAGE, IL, February 3, 2021 – Did you know energy spending in most injection molding plants is one of the highest costs month after month? At the end of the day, it is often costing more to run old machines then it would to invest in new, energy efficient ones.
With the evolution in injection molding machines (IMM) over the past couple of decades it is worth exploring machine options and how they can lower energy spending because doing so can make a considerable impact.
Cost Savings Compared
With the strides the technology has taken over the years, all-electric injection molding machines have the opportunity to be upwards of 80% more energy efficient than their old hydraulic predecessors. Beyond optimum energy savings, Shibaura all-electric machines also bring technological advances and efficiency that servo-hydraulic and hybrid counterparts simply can't compare to such as:
Increased productivity and repeatability with faster cycle times
Higher precision means lower scrap rate
No heat exchangers resulting in lower cooling water requirements
The tables below show an actual Shibaura Machine customer comparative of their existing European 400 Ton servo hydraulic machine against their new EC390SXIII series all-electric machine. As you can see, not only is energy savings obtained, but significant material and productivity gains are also realized.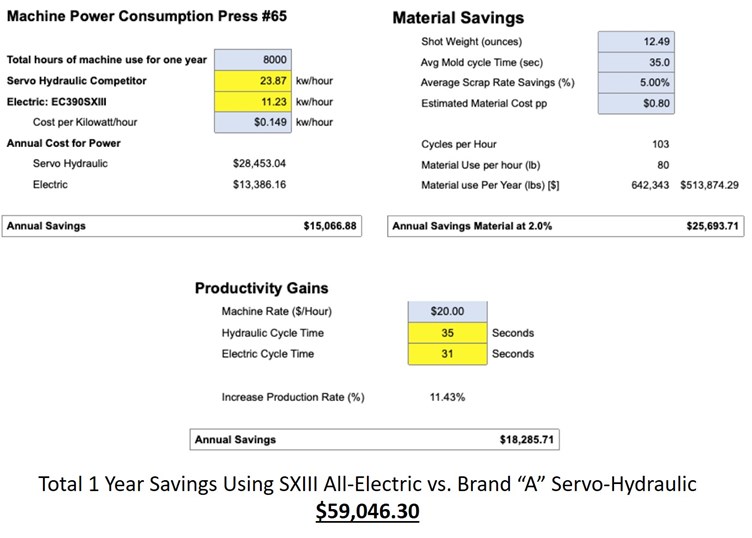 Bottom line, all-electric machines are the most efficient option on the market today. Compared against servo-hydraulic machines the savings in electricity consumption offers up to 50% with all-electric machines.
Exploring IMM Technologies and Energy Usage
Remember to research the all-electric machine to ensure it is 100% all-electric. While machines with electric main axes can call themselves "all-electric" it doesn't mean their other functions (ejectors, nozzle forward, etc.) are electric. A truly all-electric machine like the Shibaura Machine SXIII series will have all machine axes electric and offer the optimum in energy savings and precision.
To discuss more detailed information about energy efficient injection molding processes or to request an energy audit for your injection molding machines please contact our team of experts below.
Contact us today to see if our all-electric technology can help improve your bottom line!
Want to know more about our machines?