Never Be Left Wondering in Die Casting With TOSCAST Monitoring System
ELK GROVE VILLAGE, IL, November 4, 2021 - 
What goes on between one operator and the die casting machine should never be left a surprise to the next shift operator. While most factories have a process in place to record what took place the shift before, some ways are more efficient than others.
Shibaura Machine's TOSCAST monitoring system has been offering customers an easy way to record and document the die casting machine's operations for almost thirty years. Not only does it make it simpler and faster to move between shifts, it also offers a more intuitive option for handling the entire system. 
Transparency in System Monitoring
The TOSCAST production monitoring system supports users with a clear graphical interface to gain a fast overview of the die casting process and offers easy-to-use configuration of parameters. The machine inputs data to TOSCAST which records it for later viewing or alerts. This is included, but not limited to:
The system records from 50 shots back and the shifts product displayed for three days back.
Allows for the total parts produced in the lot to be entered at the start of a product run and show the remaining production.
The system will display a warning as the end of production approaches and can stop at a specified number. 
Automatically will correct the count for startup shots, ensuring the count is accurate.
All of this data can also be automatically saved to the memory card.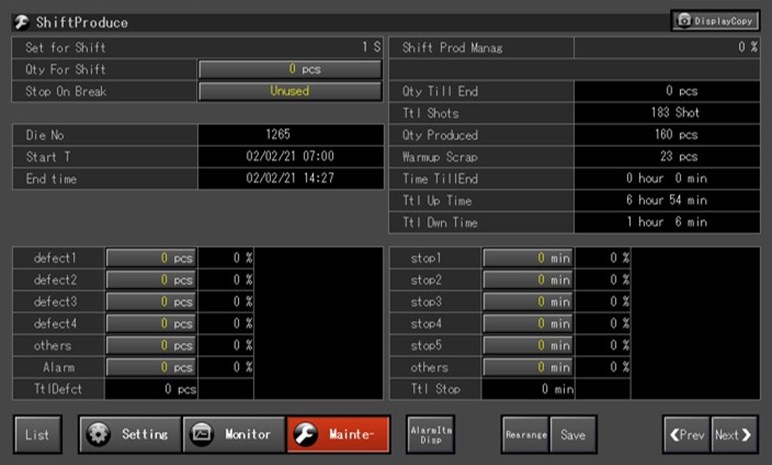 And while the die casting machine can capture what it knows and input the data into TOSCAST, the system itself also allows for production staff to enter inputs for a variety of visual defects and information that only the human eye can catch. For example, operators can enter in reason codes for why certain issues arise during their shift which the machine itself wouldn't capture. 
All of the information collected into the TOSCAST monitoring system can then be recovered for later viewing via manual removal or memory cards or uploaded automatically with dPAQET software to a central system. 
Shibaura Machine's TOSCAST offers factories a complete package in production monitoring. With TOSCASTs capabilities it removes the need for any additional aftermarket shot monitoring and production systems, saving both time and money.
Contact the die casting team to learn more about how the TOSCAST production monitoring system can improve your efficiency.
Contact us today to learn more
Want to know more about our machines?